Jon Brumi & Laughing Squid are Freakin Awesome (BYOBW07)
Yesterday, while eating and drinking in North Beach SF, I stumbled upon an event put on byJon Brumit called "Bring Your Own Big Wheel." What a trip :-D Imagine adults, dressed up as super heros and other oddities, racing big wheels down a very steep, very windey road. There were a ton of wipe-outs and scrapes but everyone laughed it off and was proud to show their bruises. This event was non-stop fun.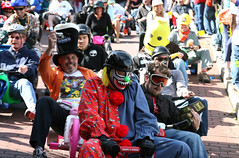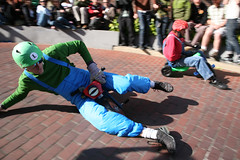 Photos by "Scott Beale / Laughing Squid"
I'd post the video I made but my laughter is out of control so instead, here's someone else's:
My collection of photos can be found on flickr.
Edit: Originally I thought the event was put on by Scott Beale of Laughing Squid but as it turns out, the organizer is Jon Brumit. Oops .. but the title stays, Laughing Squid is still awesome ;)