WPtouch: WordPress on iPhone, iPod & Android
I don't usually make a habit of posting about my favorite WordPress plugins but this WPtouch is worth the mention. I was looking to make my blog more iPhone friendly, without making any adjustments to my normal theme and WPtouch gave me exactly what I wanted. To quote their website:
More than just a plugin, WPtouch is an entire theme package for your WordPress website. Modeled after Apple's app store design specs, WPtouch makes your WordPress website load lightning fast on touch mobile devices, show your content beautifully, all while not interfering with your regular theme.
Here's what my blog looks like on my iPhone.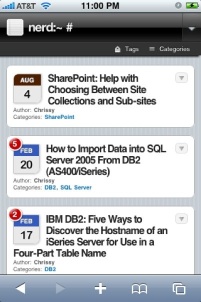 Perhaps I am in the mindset of paying for iPhone apps, but I was surprised that such a useful plugin was free; free as in beer and free as in speech. It's GPL'd. Work it, Ice, Yeahhh.